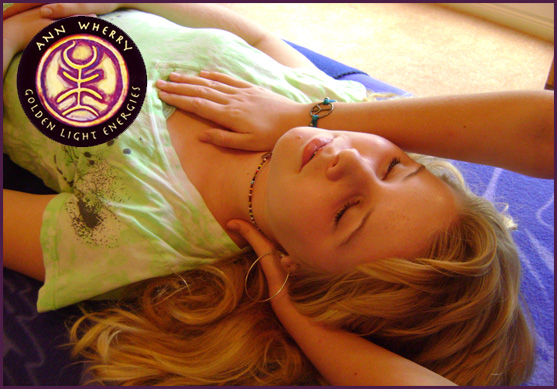 A Reiki healing treats the whole person: body, emotions as well as mind and spirit. It creates many beneficial effects that include: relaxation and feelings of peace, security and wellbeing.

Reiki is a Universal Life Energy that flows in an alpha wave into the practitioners heart and out through her hands. As her hands are placed on the energy centres (chakras) of your child's body, energy will flow clearing blockages, that can cause illness, injury or disease.

These blocked energies come from our emotions, thoughts, fears and beliefs. Reiki always goes where it is needed whether it is mental, physical, and /or spiritual. It travels throughout the energy meridians of the body, so that we may return to balance and wellbeing.

Your child will feel cosy and warm as this gentle, golden wave passes through their body, leaving them feeling relaxed, safe and at peace. Children can never have too much Reiki, as their bodies will only take what is needed to bring them into balance.

After the healing, you may notice renewed vigor, contentment, and peacefulness as their bodies return to their natural rhythms and balance.

Your child will feel Reiki as a wonderful golden radiance flowing through and around his/her body.

Click to read more in this article about Reiki for Children.
Less likely to show signs of irritability and depression
Improves concentration, improving test scores
Enhances relaxation and sleep
Calms and promotes balance on all levels
Enhances self awareness and increases self-esteem
Helps with asthma
1 hour of Reiki healing equals 3 hours of deep sleep
All consults are 60 minutes - $100
A Reiki session is an individualized experience that is relaxing, gentle, and safe for all.

A Reiki session involves healing in a way that will empower your child while respecting their feelings and choices.

The practitioner will begin by explaining Reiki to your child and what she will be doing. He/she may lay on a padded treatment table, fully clothed, sit on a chair or lap or even draw or play (whatever is appropriate), whilst Reiki is sent where it is needed. Soft music will play in the background.
If your child is having problems in specific areas your practitioner can concentrate more energy there. You will have time at the beginning, to share problems and at the end , after the Reiki, there will be a Parent Consult. Any information learnt during the healing will be passed on.

It is not uncommon for a child to present with pain and leave with none or very little. It is not uncommon for a child to report that they had seen bright colours or specific images. Reiki is relaxing but you cannot assume that each session will be the same. Many children report that they felt calm, relaxed, and sometimes even tingly during their session. They always look forward to their next session.

Please contact me on 0409 330 836 or email ann.wherry@gmail.com or use the contact page